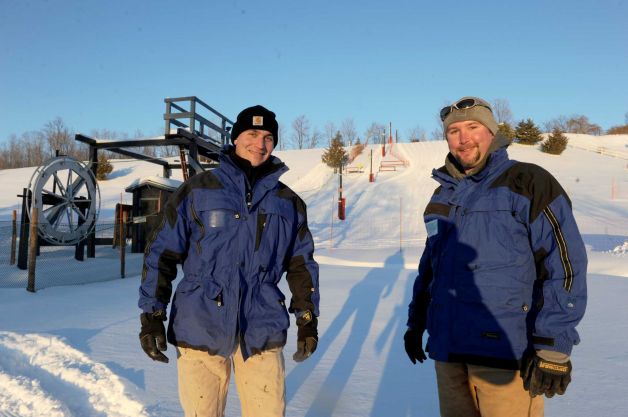 In 1991 we set out on an impossible mission for an eleven and a thirteen year old….. to create our own ski hill out of a cow pasture on the family farm. Today, a quarter of a century later, we look back at our journeys, many of which took us to different ski resorts and mountains throughout the northeast. We had the opportunity to meet new people, learn new concepts, and of course perfect our slopeside skills. Blessed with two loving and understanding parents we worked hard to create a ski hill that combined the best of all that we saw. Through lots of trial, error, success, failure and hardwork we created Polar Peak Ski Bowl.
Our tagline is, "Distinct Skiing and Riding Adventure", this best articulates our culture, bold yet positive, adventurous yet fun. Whether we are out skiing in a blizzard some evening under the lights, making snow when it is 5 below, or enjoying some runs on a few patches in July, we celebrate the extremes. Having fun is the core of what this place is about. You will discover this theme throughout the site and hopefully it will become infectious.
One of the most unique things about our operation is that we are not a business, and we are not open to the general public. Occasionally we invite a few of our closest friends and family members out to enjoy the fruits of our labor. While we don't operate a ski facility, we strongly encourage everyone to support your local ski area, and to learn or continue to participate in alpine sports.
Thank you for visiting the website and learning more about our endeavor! We hope you learn a few things about the sport, the industry, and recreation, but most importantly we hope you have fun and have a laugh along the way. Here is to an amazing 32nd  anniversary season of skiing and riding!
Best Regards,
Mark & Tom Herishko
Co-Founders – Polar Peak Ski Bowl